Amazon sea shipping from Shanghai to Birmingham, UK Amazon warehouse
Brand: Shenzhen Sunny Worldwide Logistics Co., Ltd.
Origin: Shanghai / Shenzhen / Guangzhou / Tianjin / Ningbo
Destination: UK
Vector: MSK / ZIM / OOCL / APL
Start days: every day
Shipping time: 15-30days
Minimum order quantity: 1CBM
Payment terms: t / t, Western Union, MoneyGram
Product description:
Amazon sea shipping from Shanghai to Birmingham, UK Amazon warehouse
Packaging and delivery:
Packaging: cardboard boxes, trays, bags, boxes, rolls, bags, boxes and others
Delivery time: daily
Amazon sea shipping from Shanghai to Birmingham, UK Amazon warehouse
Abbreviation of the company
:
Sunny Worldwide Logistics is a full service national and international cargo agent based in China.

A member of WCA (World Cargo Alliance), over the last 16 years, we have focused on reliable customer service and competitive transportation.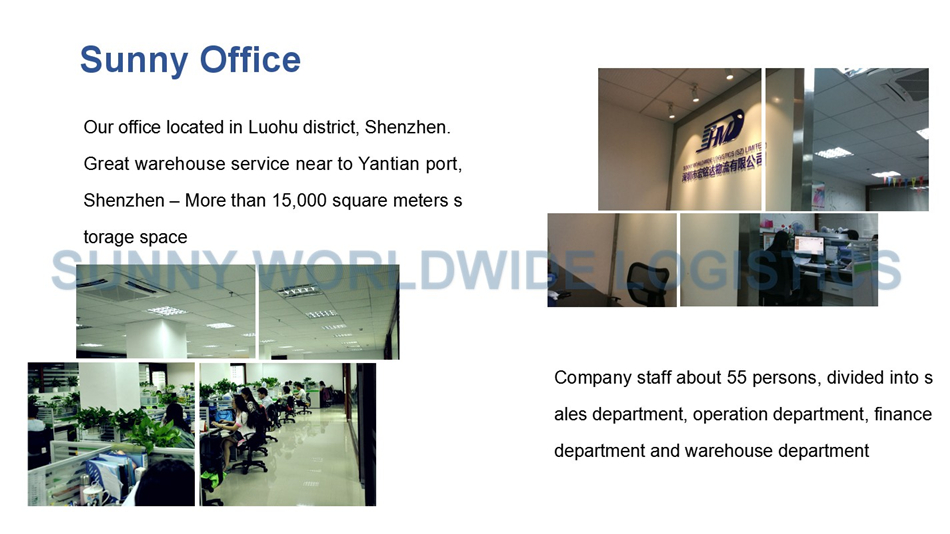 1.Ability to handle cargo from any city in China & consolidation service
With network in main seaports and airports(ningbo; shanghai; shenzhen; guangzhou; qingdao; tianjin) and strong domestics logistics ability--we can pick up cargo and ship them out from any Chinese cities.
2. Take responsible for all process of shipping
We will not only ship your cargo out from China, but also help you solve any preditable problems.
Help you coordinate with suppliers; customs; shipping lines; trucking; inspection agent.
3. Lowest price guarantees
Luckylucky guarantees that you are finding the lowest prices in all of our service! On the other hand,
We win trust and satisfaction from our clients with favorable prices and superior service.






Very good relationship with MSK/COSCO/APL/MSC/YML etc, sunny worldwide logistics sea freight forwarding can be LCL (Less than container Load) or by container. When you have regular purchasing and the goods are not in hurry, it is always a good idea ship by sea. As per client's request, we are always ready to book the space or container including arrange the truck delivery from the factories.