Air freight service from China to U.S. Amazon ONT8 warehouse customs clearance and delivery to door
Brand: Shenzhen Sunny worldwide Logistics Co., Ltd.
Place of Origin: China, Shenzhen, Guangzhou, Shanghai, Beijing, Qingdao, Hong Kong
Airlines: HU, CZ, GA, CA, TG, TK, SQ, EK, UPS, MH
Service: Daily
Delivery time: 2-4 days
Service Type: International Air Transport
Minimum order quantity: 45KG
Payment method: T/T, Western Union, MoneyGram
Air freight service from China to the US Amazon ONT8 warehouse customs clearance and delivery to the door

Company abbreviation
: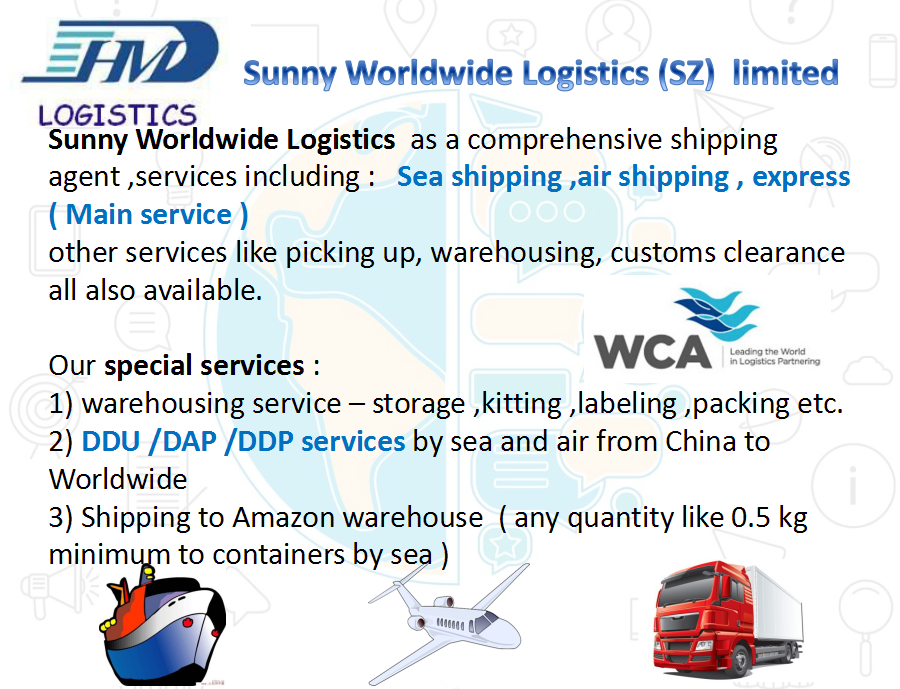 Aviation Service:

Packaging and transportation and transportation


Packing: carton, pallet, pallet, wood.




Transportation method: Shenzhen/Guangzhou arrange air transportation to the United States.




Delivery time: every day




Ship type: air, sea, express




Operating Aviation Department: CA CZ MU SQ EK PO MH TG PK W5




Transit route: direct flight, transit


Value-added services:


1. Pay attention to the similarities of customers in different parts of transportation




2. Provide warehousing and secondary packaging services




Cargo Insurance Service




4. Destination entrusted by customs clearance service




5. Import and export various files (CO, Form-M, embassy certification, etc.)
1. Global freight forwarding WCA member, less than 1% qualified enterprise in China, vice chairman unit of Shenzhen Airlines.
2. With its own towing team and drivers with more than 10 years of driving experience, it is difficult for Shenzhen to find several comparable ones.
3. More than 20 years of freight forwarding history, and the average employee experience is 5-8 years.