Air freight Cheap shipping agent from china to usa door to door to us from Shenzhen to Miami MIA airport
Origin: Shanghai / Shenzhen / Guangzhou / Tianjin / Ningbo
Vectors: MSK / Zim / Oocl / APL
Start Date: Every day
Delivery time: 15-30 days
Minimum order quantity: 1cbm
Payment method: T / T, Western Union, Moneygram
Packaging and delivery:
Packing: carton, pallet, bag, box, roll, bag, box, etc.
Delivery time: Daily
Air freight Cheap shipping agent from china to usa door to door to us from Shenzhen to Miami MIA airport
Company Profile:
Sunny Worldwide Logistics. This is a domestic and international freight forwarding company.

WCA members (World Freight Union), in the past 20 years, we focus on reliable customer service and competitive transportation.

We have been providing freight management services and logistics solutions for global companies. We offer a comprehensive air and shipping solutions worldwide, we offer goods worldwide, providing comprehensive global network coverage, state-of-the-art infrastructure and customer-centric business expertise to address logistics management. . . Our goal is to help you enter and export as seamlessly as possible, eliminating the dashboards related to transportation and allow you to focus on more and more business.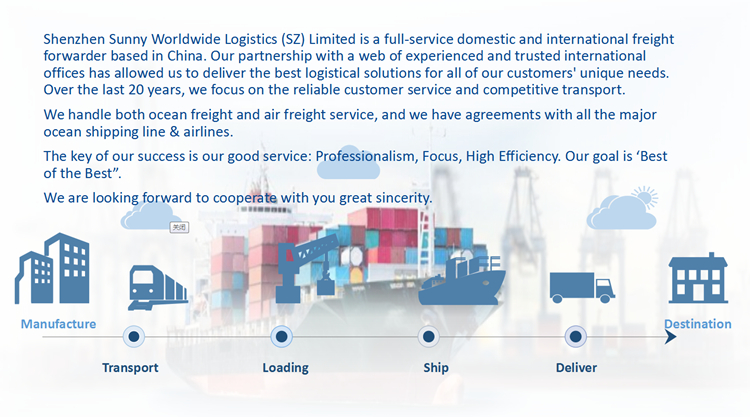 We can ship from China - Shanghai, Ningbo, Shenzhen, Guangzhou, Qingdao and Tianjin to the main port of the world. As we continue to develop, we will expand and improve our service suite to more effectively meet your transportation needs. By simplifying the process and eliminating unnecessary administrative expenses, we reduce costs, so we can save your cost. We believe that we will help you save every dollar will be used for your business and improve competitiveness, we hope that we have the opportunity to serve you again.