note! The new version of the China-ASEAN Certificate of Origin (Form E) has been officially launched
Author:MIKEY
Source:Sunny Worldwide Logistics
Release Date:2019-08-21
A few days ago, the customs issued a formal notice, and on August 20th, a new version of the ASEAN certificate of origin FORM E was issued. Customs also said that all ASEAN countries will support the old certificate before August 31.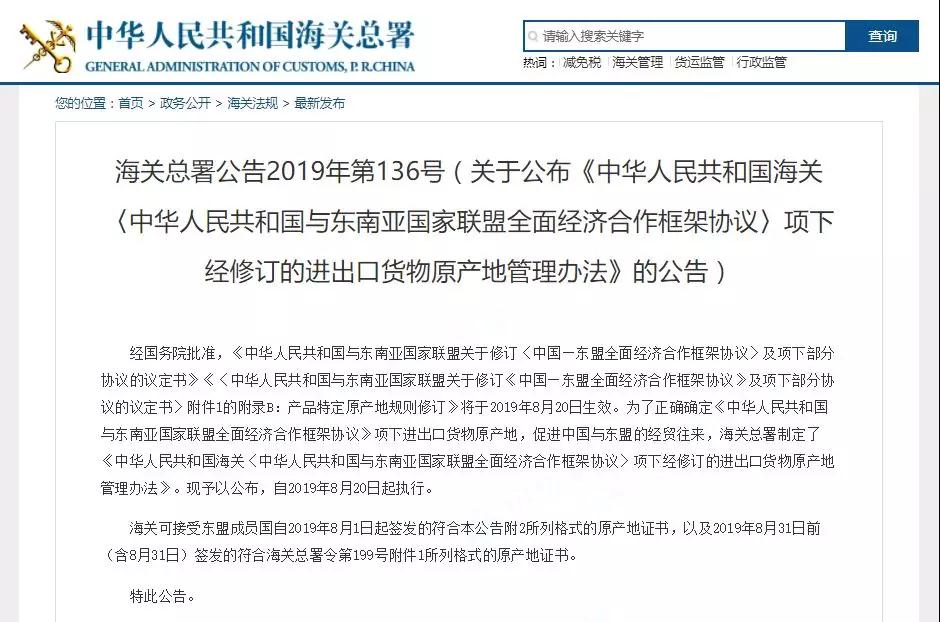 ▲The official website of the General Administration of Customs
Click to view the original and attached announcements:Announcement on the Promulgation of the "Administrative Measures on the Origin of Import and Export Goods under the Framework Agreement of the Customs of the People's Republic of China on the Comprehensive Economic Cooperation between the People's Republic of China and the Association of Southeast Asian Nations"
It is understood that the new version of the China-ASEAN Certificate of Origin FORM E changes:
Expanded list of specific rules of origin

Certificate filling new rules
1, white bottom
2, no longer limited to only 20 items
3, can be the manufacturer to apply for a certificate, the seventh column shows the actual exporter
4. The whole transportation document can meet the requirements of directly simplifying the requirements of the direct transport rules, and there is no need to transfer the customs certification documents.
5. Electronic submission documents
6, HS code fills 6 digits
7, FOB price must be filled in only the percentage standard
8, the origin of the standard "WO" "PE" "CTH" "PSR" "percentage"
How to fill in the standard of origin
1. Completely original, fill in "WO"
2, H.S. code 190410 small triangle containing Thai raw materials to fill in "PE"
3, H.S. code 170490, 190410, 190590 all kinds of products with imported ingredients can be selected "PSR", also available as a percentage
4, 220290 drinks, only applicable to percentage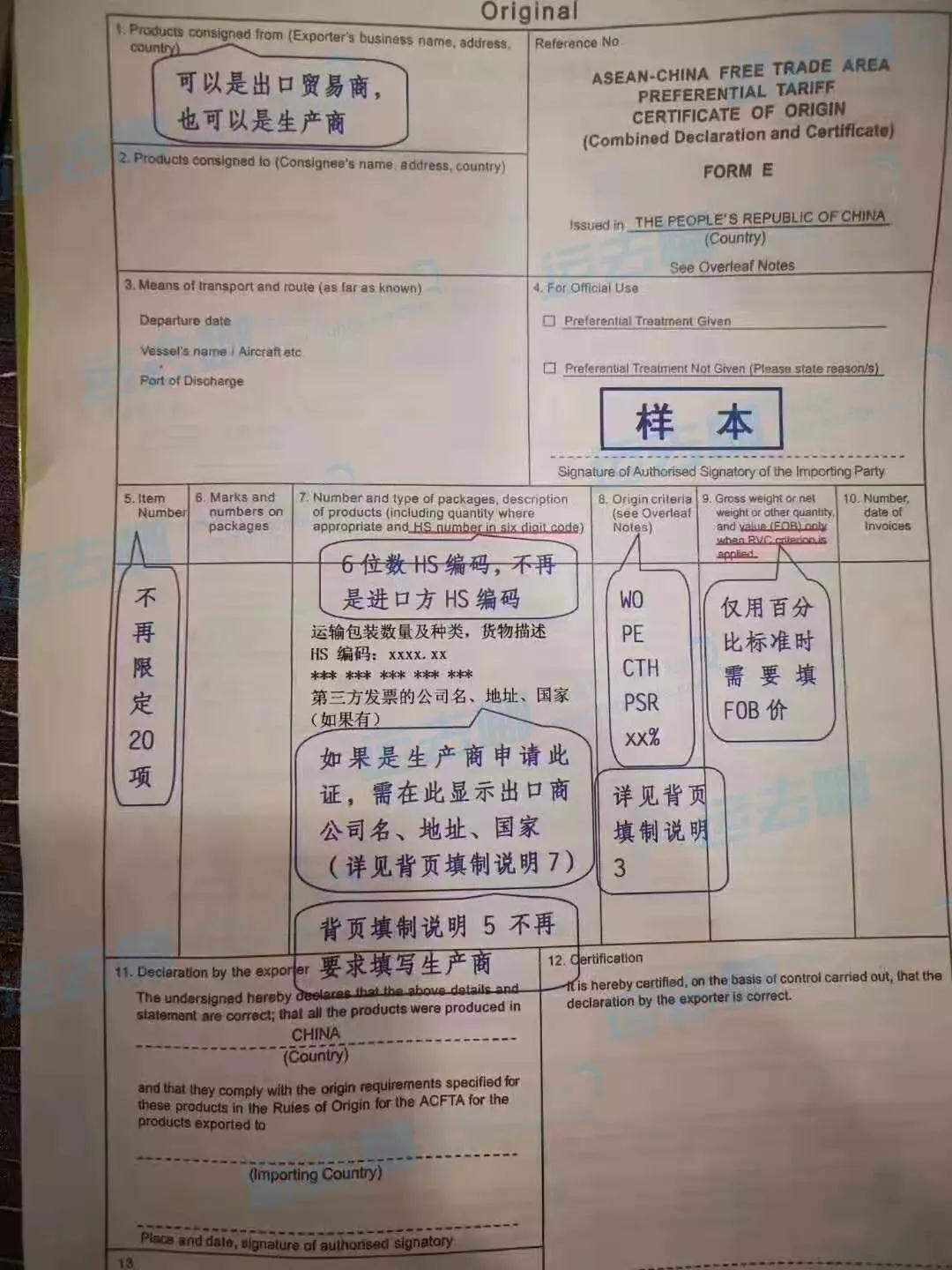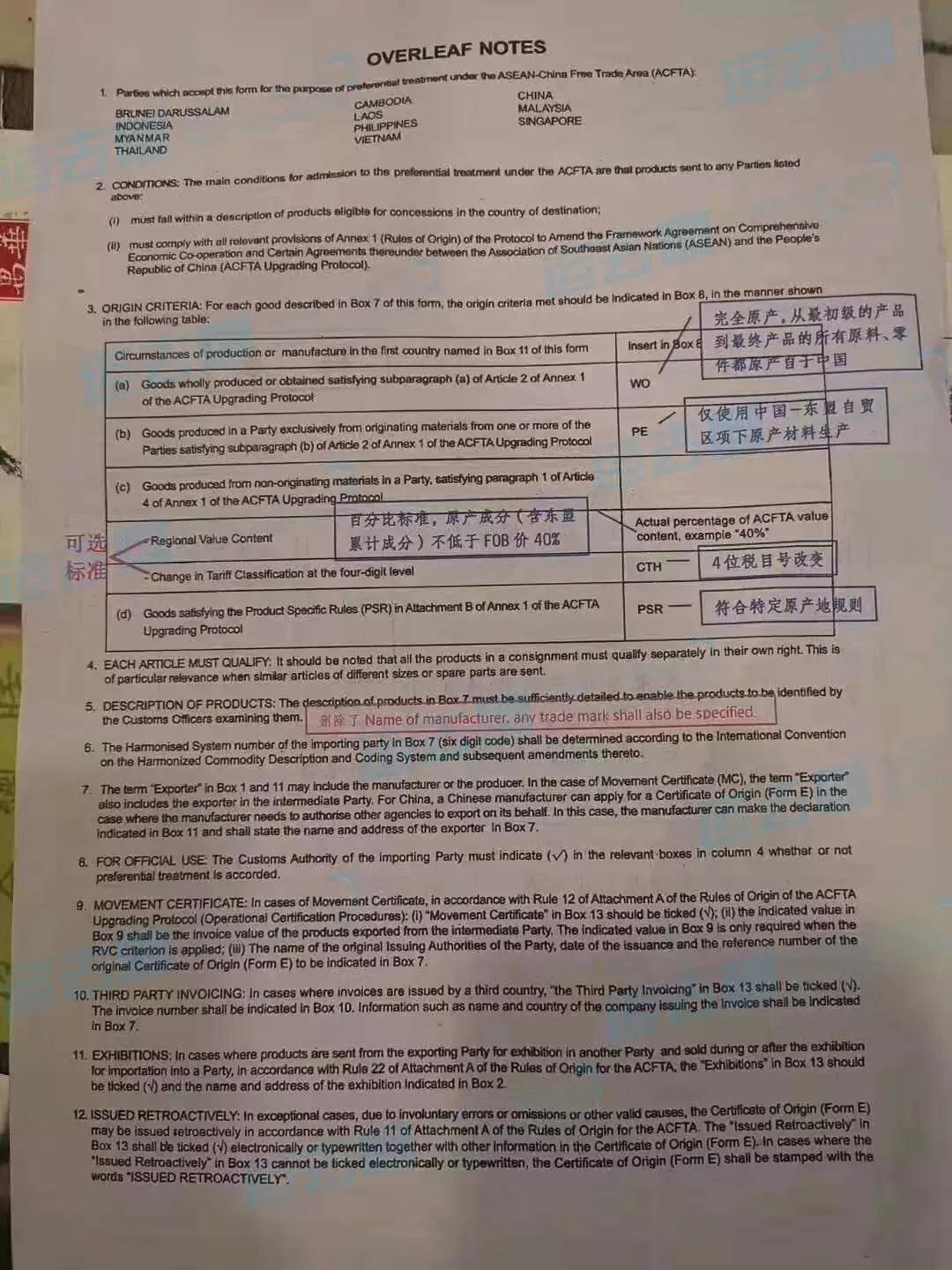 Expand reading
FORM E certificate Chinese full name

China ASEAN Free Trade Area preferential certificate of origin

Referred to as the ASEAN certificate, the English name is "ASEAN-CHINA FREE TRADE AREA PREFERENTIAL TARIFF CERTIFICATE OF ORIGIN FORM E". The issuance of the FORM E certificate is limited to products subject to tariff concessions under the published Agreement on Trade in Goods, which must comply with the China-ASEAN Free Trade Area Rules of Origin. The contents of the certificate are filled out in English.
Visa countries include Brunei, Cambodia, Indonesia, Laos, Malaysia, Myanmar, Philippines, Singapore, Thailand, Vietnam, etc.
The FORM E certificate is a proof of the goods issued by the importing and exporting country and an important document for international trade. In summary, it has the following effects:
An important tool for determining the tariff treatment of products and improving market competitiveness;

The basis for proving the intrinsic quality or settlement of the product;

Basis for conducting trade statistics;

Imported goods are subject to differential quantity control and trade management tools
(Contents are compiled from the Trade Investment Network)