Very Nice An International Freight Forwarder, Highly Recommend!
Author:Anma
Release Date:2019-08-22
In a twinkling of an eye, more than half of 2019 has passed. The hot summer has quietly withdrawn, and the cool autumn has arrived, which may be a lot of people feel that autumn is cool. But in Shenzhen, this environment, in terms of most people who struggle hard in Shenzhen, Shenzhen's autumn is not cool . The sun is still shining outside, the temperature is still swinging up and down at 30 degrees Celsius, as long as standing in any position outside, it will make people feel: "It is a very hot day!" Human sweat like the tap on the switch to keep flowing. However, in this hot environment, there is such an international freight company, the staff of this international freight company endure the blazing sun, endure the sweat soaking the whole clothes, they has moved lots of cargo, and carefully carry the goods onto the truck, which they always remember the concept as a Sunny family. "Taking care of the cargo more than the owner and making your shipping easier." Each staff from Sunny Worldwide Logistics dedicated to serving every customer with their heart. For this international freight company, slogan has never been just a slogan, but a real implementation. Their name is
-----
Shenzhen Sunny Worldwide Logistics Co., Ltd.
.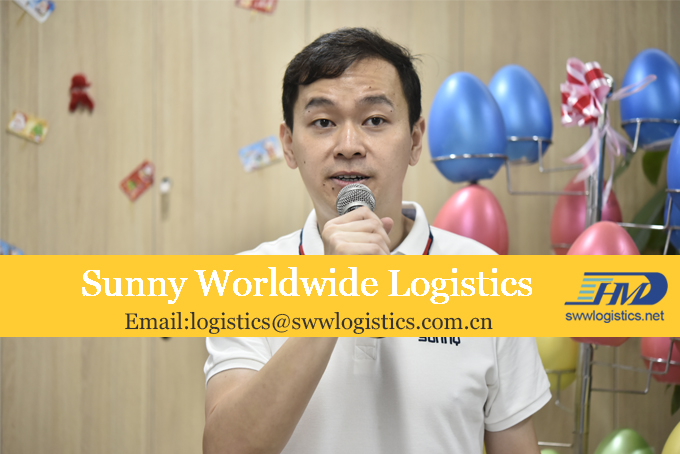 This detail story should be told from the beginning. Sunny Worldwide Logistics has a foreign trade salesman, his business customer's cargo need to ship to his customer country , but his customer cargo is stored in our warehouse, the cargo is very big and very heavy. If we want to ship this cargo to sea port, we need to find a truck to transport the cargo. If we want to transport the cargo successfully, we need to load the cargo to the truck first. In Sunny Worldwide Logistics, if a foreign trade salesman received client order, he has responsible to service or follow this client all the time, even that include the whole process of client cargo. As we konw, it is impossible for a single person to carry the goods into the car. At that time, he said in the chat group that the goods need the help of colleagues in the company. All male colleagues in the company have a special chivalrous demeanor. When they saw the news, they immediately put down their work, going to the warehouse, and began to help moving the goods into the truck inner. I am most impressed by the fact that there is a very large coffee machine in the goods of his customers.The coffe machine are packed by the wooden cases. We know that any item is very important to customers. For Sunny Worldwide Logistics, which is engaged in international transportation, it is necessary to treat every item handed over by the customers carefully. We must ensure that each cargo cannot appear any damaged in our service, we must repsonsible for every cargo from client carefully. Even if it looks like this coffee machine packed in wooden boxes is not big enough compared with other large items. But we still arrange several people to lift together, because this can ensure that the goods are safer.
It is said that such an international freight company can not be unreliable?
Choose Sunny Worldwide Logistics, Making shipping easier!
Website: www.swwlogistics.net
Address: Room 816, Block B, Rongde International Times Square, Henggang Street, Longgang District, Shenzhen
Mobile phone: 0755-25643421
QQ: 3004972747
Mailbox: logistics@swwlogistics.com.cn