The "changeable" Maersk
Author:Chelsea
Source:Seabay
Release Date:2019-12-20
On December 17, A.P. Mueller-Maerskline announced the new executive committee structure. Vincent Clerc has been appointed CEO of Ocean and Logistics, Henriette Hallberg Thygesen has been appointed as a member of the Executive Committee, and has served in Towage, Manufacturing & Others ) CEO. "The first phase of our transformation has been successfully completed," said Chairman of the Board Jim Hagemann Snabe.
Based on this, Maersk's organizational structure chart was drawn in the port circle as follows: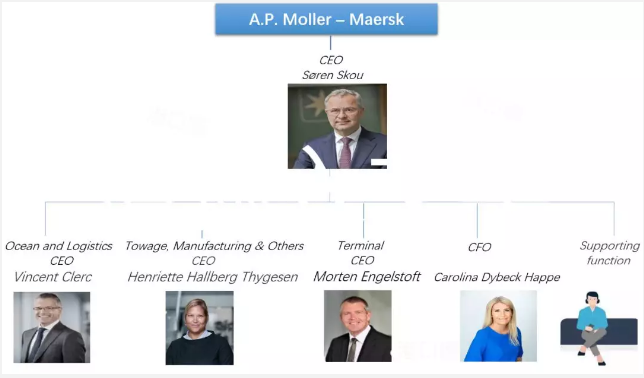 Looking back on Maersk's history in 2019, it is not difficult to find that the ownership of this company's business sector has been changing.



On January 1, 2019, Maersk Line's marine products and Dan Maersk's supply chain management services were integrated to sell products and services to the market under the unified brand Maersk.



On August 1, 2019, Maersk Terminals' inland services business (APM Terminals Inland Services) was integrated into Maersk Logistics & Services business, aiming to provide customers with a wider range of seamlessly linked services. Logistics products and services.



Of course, such a change is not a whim, it is the Danish shipping giant's consistent style to use internal reorganization to resist risks and improve operational efficiency.



Søren Skou, Maersk's CEO, said: "A year ago, we integrated the company so that customers could connect with specialists. Now we are ready and will increase our business and operational integration by Accelerate strategic execution. With the new executive committee leadership structure announced today, I believe we will accelerate this step. We have a simple and flexible foundation that helps achieve profitable growth. The new executive committee is united and better integrated Value proposition and maximize value creation across all businesses. "



According to Maersk's third quarter financial report, the company achieved revenue of US $ 10.055 billion, compared with US $ 10.149 billion in the same period last year, a slight decrease year-on-year. Earnings before interest, tax, depreciation and amortization (EBITDA) for the period was $ 1.656 billion, a year-on-year increase of 14%. Actual profit was $ 452 million, compared with $ 188 million in the same period last year. Maersk said in the announcement that this quarter's performance is characterized by improved profitability of various businesses. In particular, Shi Suoren commented: "I am satisfied with Maersk's transformation progress. We have made progress in many areas, including digital transformation, and good progress in onshore logistics and terminal business."



In addition to the dazzling financial data, Maersk has made frequent moves this year and has blossomed more in non-marine business.



On October 14, Maersk Meishan International Logistics Center was officially unveiled. This is also the first automated international logistics distribution and distribution center project invested by Maersk Group in China, with a total investment of nearly 600 million yuan.



Subsequently, Maersk and Shanghai Lingang Economic Development (Group) Co., Ltd. signed a strategic cooperation agreement to invest in the construction of the Maersk Lingang International Logistics Distribution and Distribution Center in the Lingang New Area.



On November 8, Maersk invested in British-based recycling logistics company ZigZag Global through its Maersk Growth and reached a strategic partnership with the company.



On December 6, Maersk Logistics products and operating products reached a new level, and "Xidi" Taiwan Luzhu Warehouse, the situation is improving.



It is worth noting that Maersk has also experienced many personnel changes in senior management in 2019. The above-mentioned CFO He Linna will resign as soon as this month to serve as the CFO of General Electric of the United States. Prior to this, Maersk COO Mr. Søren Toft quickly joined the alliance partners after leaving, and also competed with Rival Mediterranean Shipping served as the first CEO outside his family. In the end, it will take time to observe what chemical effects these personnel changes will have.



In contrast to the new executive committee structure, many of the top executives who have been among the mainstays are "Blue Stars" who have been in the Maersk industry for many years. In the future, under the leadership of CEO Shi Suoren, how will they dive The terminal and maritime business and the acquisition of Hamburg South America produce synergies, and through digital solutions to establish a competitive advantage at the technical level, and ultimately create more value for customers, it is worth watching.