Strike protests hit India's largest container port fell into a lockout
Author:Jim
Source:Search network
Release Date:2018-11-20
According to Sogou.com, a strike protest occurred in India's largest container port (JNPT) on Friday (November 16), causing the port to stop and temporarily close.
It is reported that strike protesters are concerned that unresolved projects affect citizens' claims, blockades at interstate highway junctions to ports, trade-related trucks are forced to park in the driveway, and wait for a few of the strike ships at the berth Hours, normal sailing schedules and productivity were affected.
On the morning of Friday, all cargo and ship operations at the Port of Nehru (JNPT), which handled most of India's container shipments, were forced to close.
After the port and other stakeholders held talks with the demonstrators, the strike protesters ended their downtime later that afternoon. The disputes involved have led to many protests and strikes, as well as multiple rounds of negotiations. Given the complexity, it remains to be seen whether the current process will end long-standing problems.
Local shipping sources told the media that the port has restored all landside/dock services.
As the union/outsourced port crane operator stopped working for the first time to support protesters, Mumbai APM Terminal and JNPCT Port were mainly affected.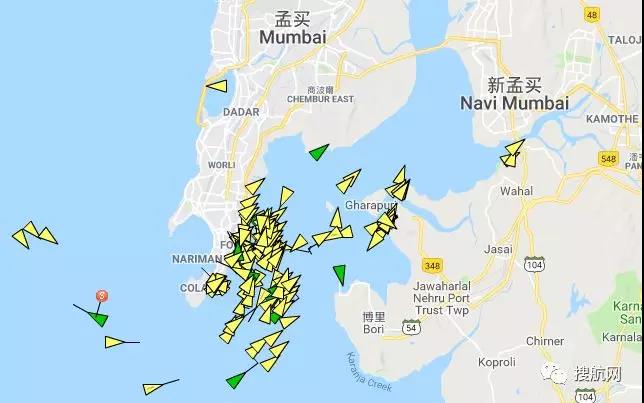 ▲As of today, there are a large number of ships waiting in Hong Kong.

DP World Nhava Sheva and PSA International's Bharat Mumbai Container Terminal (BMCT) did not comment on the matter. However, sources said that DP World's Mumbai Newport International Container Terminal (NSICT) had a moored vessel on Friday. The vessel "CECILIE MAERSK" was deployed on the MIDAS (India-Africa) route between Maersk Line and CMA CGM. .
In addition, no ships are docked at the BMCT terminal. APM Terminals Mumbai said in a customer advisory report released earlier that day that the operation of the terminal was temporarily suspended and the container transport vehicles were blocked in traffic.
APM Terminals handles approximately 40% of JNPT's volume. The company stated that "maintaining personnel safety is the primary responsibility of APM Terminal. Our employees are still in a state of readiness and we will try our best to resume operations as circumstances permit."