Share how I chose a reliable Shenzhen freight forwarding company?
Author:Anma
Release Date:2019-08-23
Recently, I woke up one morning after breakfast and started to open my Wechat. I found myself inexplicably invited into an alliance group of Shenzhen freight forwarders by an unknown and enthusiastic friend in my Wechat friend group. The members of this group are all engaged in the related affairs of freight forwarding industry, or the same group, but for me, my work is closely related to foreign trade, but my understanding of the logistics industry is only on the surface. Although I do not know why my friends will invite me into this alliance of Shenzhen freight forwarding companies, but I don't choose to quit the group.
Originally, I just wanted to be a quiet members in the alliance group of Shenzhen Freight Forwarding Company, not talking any more in this group, just to know the logistics information by the way. There's a remarkable saying, "Something you may not need right now, but you can't guarantee that you won't need it in the future." At 11 o'clock in the evening, a friend of mine asked me for help on social software. He said that he had recently ordered a lot of goods from a foreign customer in Guangzhou, China. Now the delivery date is approaching. The customer asked him to help arrange the transportation. But something unpleasant happened to the forwarding company he had cooperated with before, so this time he wanted to change to a Shenzhen forwarding company. He himself stated that he had communicated with many freight forwarders and made price comparisons before when choosing a freight forwarding company to cooperate. Finally, in order to save costs and gain more profits, he chose the cheapest Shenzhen freight forwarding company to cooperate. At first, when cooperating with this forwarding company, the other party's service was still possible. Later, an accident was discovered because of a shipment. After two months, the customer did not receive the goods on this side. According to the transport schedule, the latest one month arrived. And from the logistics tracking address, logistics has not been updated after leaving the country. He guessed that the goods were probably lost. That goods lost this responsibility affirms that the freight forwarder is responsible for this side, but the other side of the company on various reasons to delay this matter, do not want to bear the consequences, and did not give timely solutions. Later he looked for the other party, whether on the phone or social software, he did it. The other party finally did not dare to answer the phone, and the information did not return, so his old breath of blood would be gushed out. Moreover, he made it clear that he wanted to change to a more powerful Shenzhen forwarding company.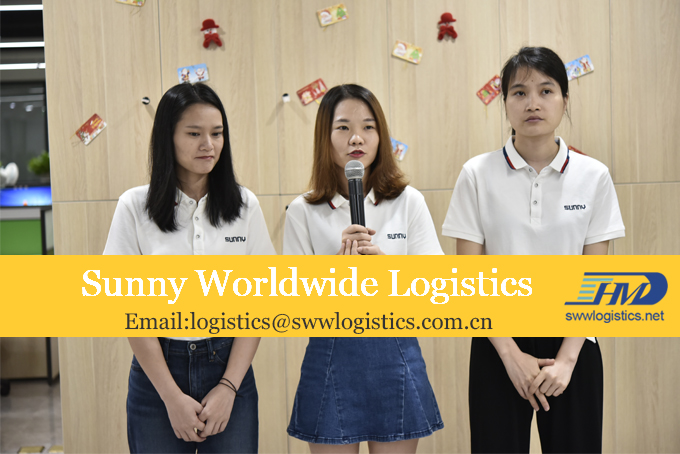 Just in time, I had the group of Shenzhen freight forwarders. At 12 o'clock that night, I immediately issued an inquiry message in the group of Shenzhen freight forwarders. It was too late to get up the next day and read the news. But unexpectedly, there will be a person chatting with me immediately, which surprises me. This point is still online and ready to work at all times. Then I asked several questions pertinently, and found that the other party's business performance is very professional, the most important thing is to give people a feeling of sincerity, very customer considerations. After understanding my transportation requirements, the other party quickly gave me two ways of quotation, and enclosed sincere suggestions to help me choose. This makes me feel comfortable in communication. Later, I will go into the company's business and then go to their official website to get a general idea of the company. The company's name is Hongmingda Logistics Company. Here's a brief account of this Shenzhen forwarding company.
1. This Shenzhen freight forwarding company has been engaged in international logistics for more than 20 years, which can be said to have rich experience.
2. There are trailers and drivers of their own, as well as transport equipment. It can be said that Shenzhen is the second.
3. Have their own warehouses at home and abroad, can provide warehousing services, even if the goods are sent to him, requirements for packaging, labeling, marking and other services can be satisfied.
4. Business scope is very wide, whether by sea, air, express, land or FBA. You can get it anywhere in the world.
5. Moreover, they work in 1800 square meters of Grade A office building, office environment and address location are also very superior. Not a small workshop.
Finally, I introduced this Shenzhen forwarding company to my friend, who also expressed satisfaction and chose to cooperate with Shenzhen Sunny Worldwide Company. He said that the reason why he chose the one I recommended was that the company's service concept particularly reassured him.
Sunny Worldwide Logistics, more than the owner to return the owner, so that customers shipment more worry.
Choose
Sunny Worldwide Logistics
, Making shipping easier!
Company website: www.swwlogistics.net
Company Address: Room 816, Block B, Rongde International Times Square, Henggang Street, Longgang District, Shenzhen
Mobile: 0755-25643421
QQ: 3004972747
E-mail: logistics@swwlogistics.com .cn