On these routes, it is time to say "goodbye" to APL!
Author:MIKEY
Source:Sunny Worldwide Logistics
Release Date:2020-04-29
at last
It's time to say "goodbye" to APL
Although only in the Middle East, India and Pakistan
Asia, Latin America, Oceania ...
This is a "news" that has been suppressed for many days. It has been held for a while, because like many foreign trade and freight forwarding friends who like the shipping company APL, we have been waiting for the French Duffy to "refute rumors" APL "dispelling rumors"!
However, this time we were disappointed!
French Duffy did not come forward to "refute rumors", APL also chose silence!
From this, it is time for us to say "goodbye" to APL! Although only the Middle East Line, India-Pakistan Line, Asia Line, Latin America Line and Oceania Line ...

▲ APL and us are moving away!
According to Sohang.com learned many days ago, the world 's oldest well-known container shipping brand in the global shipping industry, with a 172-year-old APL, the US President Steamship, will gradually withdraw from the Indian subcontinent route, the Middle East route and Latin America within the next five weeks. American route!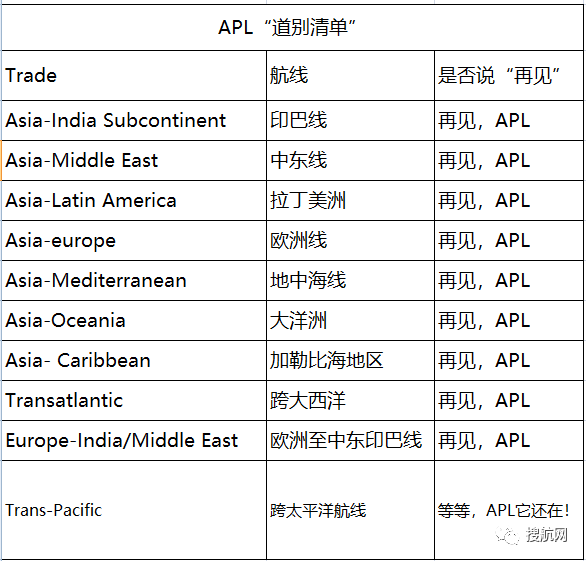 ▲ "Can't say goodbye"
Since the acquisition of APL by French CMA in 2015, APL's business scope has been in a relatively awkward state-turbulence!
Often when Marseille (the headquarters of CMA Duffy) orders, APL has to "lose" a market during the internal strategic adjustment process!
According to the incomplete statistics of Sohang:
In December 2018, APL handed over the Asian route to CNC
In October 2019, APL withdrew from Asia-Europe routes and transatlantic routes
In January 2020, APL withdrew from Oceania
In May 2020, APL is about to withdraw from Middle East India, Pakistan and Latin America
Although this is just a group company (CMA) to make an internal business adjustment to its subsidiary company (APL), it is entirely based on the internal "housework" of its own company's route regulations and brand strategy.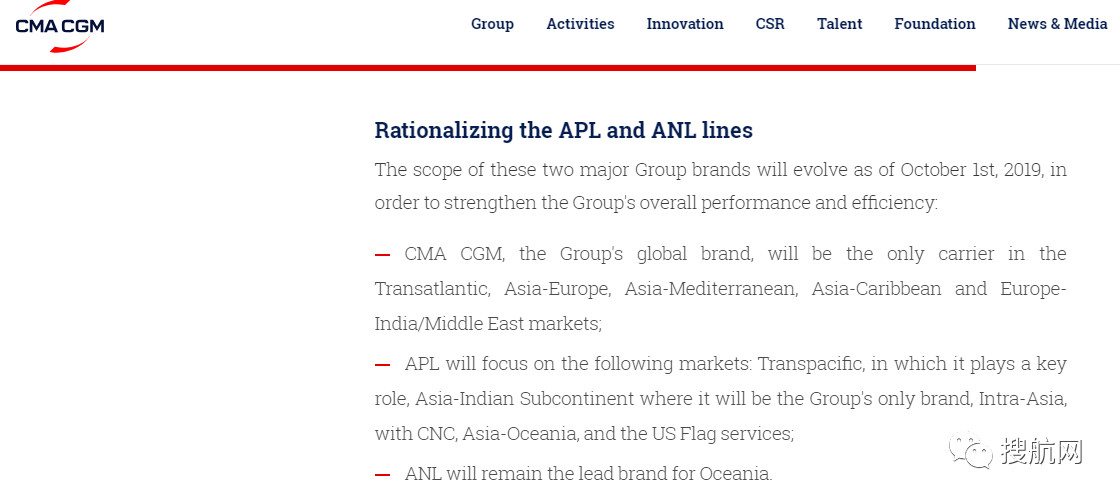 ▲ The performance of Q1 in 2019 is not satisfactory. CMA's official website immediately announced the adjustment of the internal route brand!
As an industry, we do n't want to discuss too much whether it is better to maintain a dual-brand "independent" model like Maersk to Hamburg South America or COSCO Shipping to OOCL? Or is it a model like Hapag-Lloyd that integrates CSAV and UASC directly to "swallow"?
Just as a foreign trade and freight forwarding logistics industry, we regret to find that there are fewer and fewer shipping company brands available in the future. This is for those enthusiastic users who love the century-old brand like APL, and for the healthy development of the container liner industry Not good news.
A month later, in addition to the trans-Pacific route, all customers in the Middle East, India, Pakistan, Oceania and Latin America will suddenly find out: APL, "is gone!"
Let's go and cherish, in the next four weeks, on the routes of the Middle East, India, Pakistan and Latin America, APL will carry not only your goods and support, but also a heavy memory!