Many shipping companies such as Maersk Hyundai Merchant Marine were swallowed by fire
Author:Cynthia
Source:Sunny worldwide logistics
Release Date:2018-06-15
It is reported that at about 22:15 local time on June 13 in India, a ship full of Maersk, Hyundai Merchant Shipping Co., Ltd.
container
When the public barges were traveling in the Indian waters, there was a container explosion on the boat and caused a serious fire!
It is understood that the container ship with a large fire was named SSL KOLKATA with a capacity of up to 1118Teu. At the time, it was the largest transit port in India from Krishnapatnam to Calcutta!
Indian media reported that there are 22 Indian crew members and nearly 500 containers on board. The fire was caused by the explosion of a certain container. The fire quickly spread and swallowed 70% of the ship's deck!
After receiving the alert, the Indian Coast Guard promptly dispatched rescue ships and planes to carry out rescue operations. Fortunately, all 22 crew members were rescued! A few hundred containers may never reach Calcutta!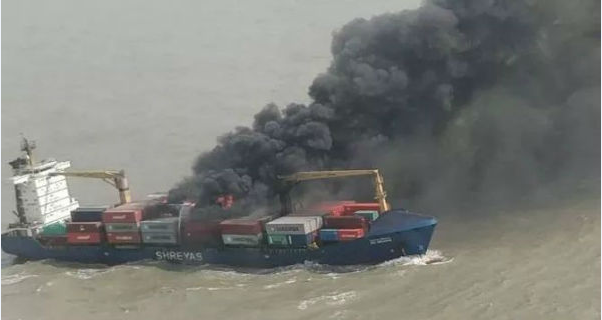 According to statistics, this 1118Teu container vessel serves at least Maersk, Hyundai Merchant Marine, Star Ship, MCC, Gold Star and many other well-known shipping companies!
It is understood that the accident occurred in the container ship belongs to a local shipping company in India Shreyas Shipping & Logistics. The main business of this company is to provide barge services between the major ports in India to major shipping companies around the world!
If the cause of the fire confirmation is that some freight forwarders have deliberately reported missing dangerous goods, the terminal port or shipping company will step up efforts to severely strike and punish dangerous goods! This will involve tens of thousands of unblemished containers and a large number of foreign trade logistics companies.


Remind owners to buy insurance at one point, and many situations are unpredictable.

For example, insurance premiums are not included in FOBs and C&Fs that are commonly used internationally, and insurance is taken care of by the buyer;


The CIF includes insurance premiums, which are handled by the seller (see foreign trade price conditions).

How is the premium calculated?
Exports: Generally speaking, insurance laws and international trade practices in various countries generally stipulate that the amount of insurance for export goods transport insurance shall be appropriately increased on the basis of the CIF price.

The markup rate is generally 10%. It is also possible to agree with the insured on a different rate of bonus, but it is generally not more than 30%. Insurance amount = CIF price* (1 + markup rate).

If it is a CFR quotation, it shall be converted into a CIF price, CIF = CFR/[1—(1 + bonus rate)* insurance premium rate]; if it is a FOB quotation, you must first add freight to the FOB price to become CFR. After that, it is converted into CIF price.

The amount of import insurance is based on the CIF price of imported goods. If you want to apply for insurance, you may add 10%. If imported by CFR or FOB conditions, the insurance amount will be directly calculated according to the special insurance premium rate and the average freight rate.
When importing by CFR: Insured amount = CFR price* (1+ premium rate); When imported by FOB: Insured amount = FOB price* (1 + average freight rate + premium rate).

In the near future, there are a number of shipping companies and foreign trade and freight forwarding companies that export to relevant ports in India need to maintain communication with the relevant shipping companies and pay close attention to the damage situation!