Sunny worldwide logistics Operation Shipping Process Training
Author:Cynthia
Source:Sunny worldwide logistics
Release Date:2018-12-05
Recently,
Sunny worldwide logistics
has joined many new partners, in order to enable all of your friends to understand the shipping knowledge faster and more clearly, and to be familiar with the working environment.On the afternoon of November 24th, 2018, the company held a new employee induction training. The lecturer is Jane, the gentlest operation manager of our company.
The content of the training is broadly divided into:
1. Daily work, morning and evening inspections, time cut-off points: cut-off/cut-off line/cut SI/cut ISF/cut VGM, trailer/declaration time, etc.
2. Regarding the shipping clearance to the door clearance and the preparation of documents, the issue of the United States bill of lading and the annual pound
3. Preparation of bill of lading information/declaration materials, how to entrust electronically
4. Opening time of each shipping company
5. Shenzhen shipping export considerations
6. Guangzhou barge export considerations
7. Ningbo shipping export notes
8. Shanghai shipping export considerations
9. Qingdao shipping export considerations
10. Tianjin shipping export notes
11. Take the time request of the original bill of lading / the requirements of the electric discharge file
12. In the absence of cabinets for flexible handling, the ship name voyage SO and the terminal are inconsistent
13. About the ship handling requirements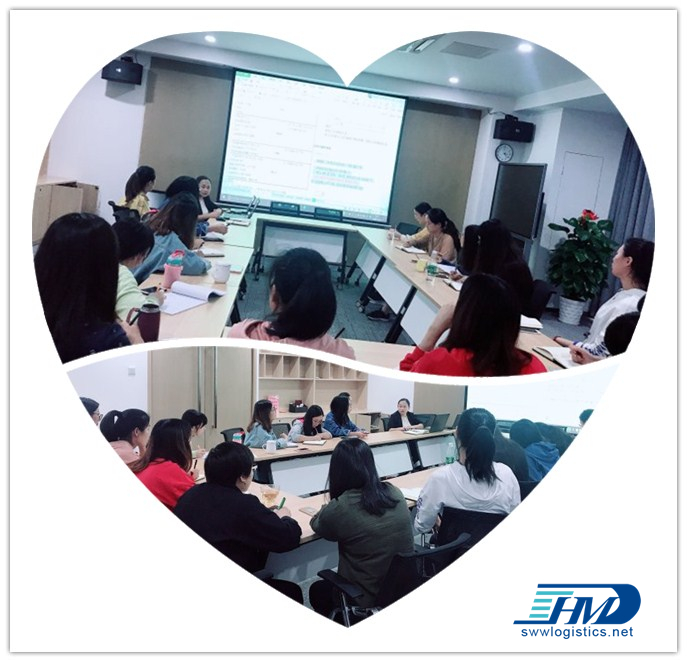 During the training process, Jane explained the operation procedures of seaborne arrival and arrival to the door in detail. What are the different operations at different ports; shared some problems in the shipping operation and told us how to solve them? If we often encounter a counter without a counter after the bill is placed, how should we deal with it? Jane uses her own expertise to give the following treatments:
1. Ask the dealer first to see which dock has a cabinet to mention, can you go there?
2. Let the dealer cancel the order and re-refresh the order to see if there will be an updated address (whether it is possible to re-order, depending on the ship division)
3. Find the shipping company to change the address of the cabinet (the processing time will be slower than the first two methods).
Throughout the training process, our small partners listened to Jane carefully and asked questions and took notes in time. This is the atmosphere of our Hongmingda logistics learning and the working atmosphere. I hope that all of you can learn more. More professional knowledge to provide customers with more optimized solutions.