First level alert! Also sealed off! Heavy fog again invaded Shanghai, and many ships are delayed!
Author:Cynthia
Source:5688.cn
Release Date:2018-04-24
Fog, has become
Shanghai Port
Can't wrap around!
The last round of heavy fog from the end of March to the beginning of April was only half a month. Shanghai Port has yet to fully restore its normal production order. In the past two days, frequent heavy fog reappeared at Shanghai Port and the Yangtze River Estuary, which was aggravated, resulting in the sealing of navigation channels and the delay of ships. Recently, foreign trade and freight forwarding partners who shipped goods have noticed!
It is reported that since the South Gate of the Changjiang Estuary of Shanghai Port was closed at 22:15 on April 21 due to heavy fog, and the north slot was sealed off at 23:30 on April 21 due to heavy fog, it has been sealed for about 34 hours so far!
▼Ship Company Closed Port Notice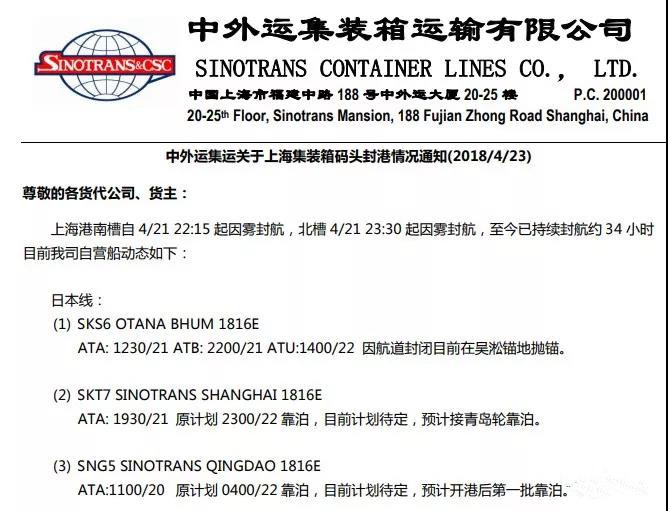 Repeated sealing has also led to a large number of delays in shipping and unstable sailing schedules, and the surrender of surrender charges at Shanghai Port has also followed. It is reported that at present the foreign container drop charges have risen from around RMB 200, which has risen to the present price of RMB 500 for small cabinets and RMB 800 for large cabinets. The yard was fortune, but the foreign trade and freight generations were bleeding!
According to the statistics of the large vessels, in the past month, due to frequent heavy fog at Shanghai Port, the vessels could not be docked in time, resulting in the backlog of containers in the past few weeks. At the same time, the downstream Ningbo-Zhoushan Port has also been affected. At present, basic vessels have a delay of one week.
Finally, I would like to remind everyone again that there have been frequent heavy fogs in the recent past and the shipping schedule is not stable. When shipping, we must communicate with the shipping company in advance and make reasonable plans for containers and port entry to avoid additional costs.