Congratulations to Sunny worldwide logistics Enterprise Xidi Intellectual Property Management System
Author:Cynthia
Source:Sunny worldwide logistics
Release Date:2019-02-28
Congratulations
Sunny worldwide logistics
Enterprise Xiti Intellectual Property Management System Certificate Congratulations to Hong Mingda Logistics Enterprise Xiti Intellectual Property Management System Certificate Congratulations to Hong Mingda Logistics Enterprise Xiti Intellectual Property Management System Certificate Congratulations to Hong Mingda Logistics Enterprise Xiti Intellectual Property Management System Certification certificate
Thanks to our responsible colleagues, after ninety-nine 81 difficulties, in February passed the nationally recognized GB/T29490-2013 intellectual property management system certification.
Another milestone in the history of the company's development.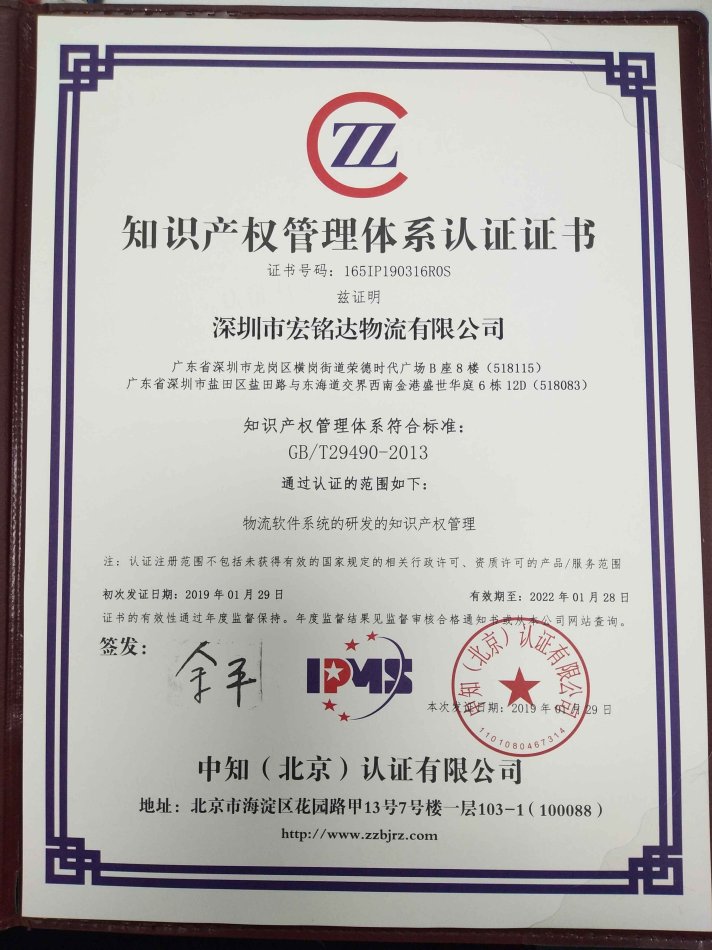 So what is the standard?
The standardization refers to the implementation of ISO9000 quality management system standards, ISO14000 environmental management system standards and OHSAS18000 occupational health and safety management system specifications. The establishment of enterprise quality, environmental integration and occupational health and safety management system based on three international standards is not only an objective to adapt to market development. Need, but also the inherent requirements of regulating corporate management behavior.
Frequently asked questions about the application for the standard:
Q: How long does it take for the IP mark to pass?
A: Under normal circumstances, you can complete the standard counseling work in about 6 months. After you have prepared, you can apply for certification. The certification time depends on the company's arrangement.
Q: Which companies are applicable to the "Enterprise Intellectual Property Management Regulations"?
A: This national standard applies to companies with the following wishes:
(1) Establish an intellectual property management system.
(2) Run and continuously improve the intellectual property management system.
(3) Seeking external organizations to evaluate the intellectual property management system.
All levels of intellectual property pilots, demonstrations, advantageous enterprises, high-tech enterprises, and innovative enterprises all need to establish and improve their own intellectual property management systems through standards.
Q: Why should companies carry out IPR work?
A: In addition to promoting corporate technological innovation, enhancing corporate core competitiveness, and improving the competitive position of the enterprise market, some intellectual property work has already adopted the certification documents of enterprise intellectual property management standards as a science and technology project in some policy documents issued by central ministries and local governments. And the important reference conditions for the identification of high-tech enterprises and intellectual property demonstration enterprises, and early adoption of the certification, will help enterprises to enjoy relevant national policies and accelerate enterprise development.
If you still don't understand the application, you can contact us or comment on the blog. We will answer your questions.