APL Announces New Services on Routes, Arrives at Jakarta, Indonesia or Surabaya, Up to Five Days
Author:Cynthia
Source:Sunny worldwide logistics
Release Date:2018-06-20
Sent
Indonesia
The owner of the ship is blessed with APL's announcement of a new route service, China South East Asia Service 8 (CS8), which can reach Jakarta and Surabaya in Indonesia within five days.
According to APL's official website announcement, APL's new CS8 will provide direct access from key Chinese markets such as Shanghai, Ningbo and Shekou to Jakarta and Surabaya, the largest port cities in Indonesia.



The goods from Shanghai will arrive in Jakarta and Surabaya within 8 days and 11 days respectively. Goods from Shekou to these Indonesian ports will be delivered within 5 days and 8 days respectively.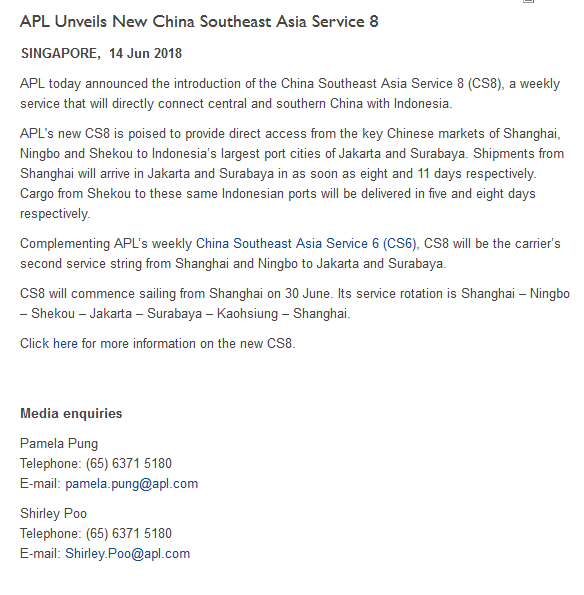 We all know that Indonesia's customs clearance requirements are very strict, except for the single manifest/invoice/Form E requirements. How much do you know about Form E's knowledge?



In general, Indonesia needs to apply for the FE certificate of the ASEAN country. If the company does not register with the Bureau of Commodity Inspection, it may ask us to help us with the issuance of invoices and bills of lading.


If the consignor on the bill of lading is a supplier, it can be specified. If we send it out, we can double look up.


Please note that when handling Form E, you must pay attention to the following:

One is to plan ahead and register early. Since FORM E is the vouchers for importers to enjoy zero-tariff preferences, it takes a certain amount of time for the certificate of origin registration to be registered.
Therefore, for the self-exported enterprises to ASEAN, the application for FORM E should be registered as soon as possible, instead of waiting for the ship to arrive in Hong Kong before hurrying to apply and affecting customs clearance;
The second is to declare the product name and the HS code as specific and detailed as possible. An effective method is to ask the importer's request in advance, and the format of the document allows them to confirm it so as to reduce unnecessary troubles;
Third, exporting companies must abide by the laws and regulations of the importing country, avoiding some illegal activities resulting from blindly requesting from the importers, and being blacklisted and affecting the development of the ASEAN market.
If you have any questions regarding logistics, please contact us at Hong Ming Da Logistics. Welcome to contact us.